THE PLETT TOURISM ASSOCIATION PRESENTS AN INTEGRATED DOMESTIC CAMPAIGN AND SHARES OTHER INDUSTRY INSIGHT AT THE FIRST 2021 'PLETT CONVERSATIONS'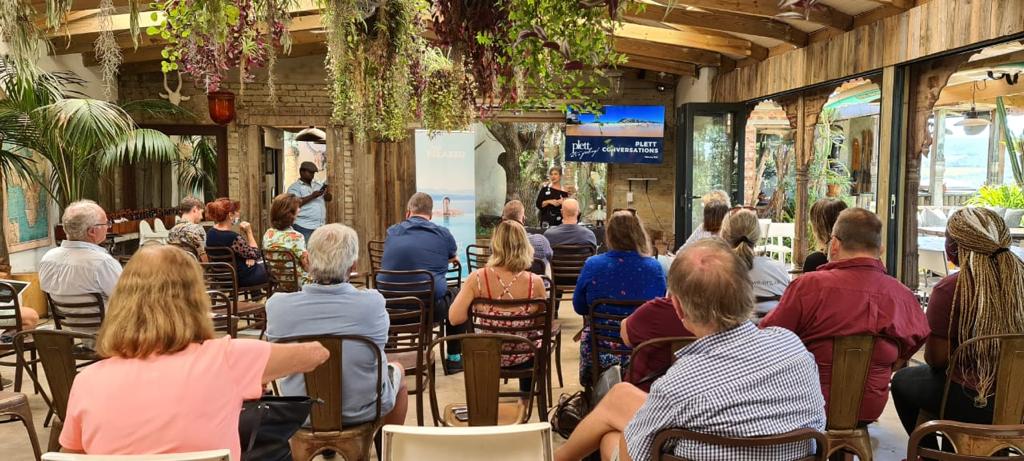 THE PLETT TOURISM ASSOCIATION PRESENTS AN INTEGRATED DOMESTIC CAMPAIGN AND SHARES OTHER INDUSTRY INSIGHT AT THE FIRST 2021  'PLETT CONVERSATIONS'
All tourism products from Plettenberg Bay were invited to the first 2021 'Plett Conversations' on the 17th of February at Emily Moon River Lodge.
The first meeting of 2021 was attended by 30 local tourism businesses and the Plett Tourism team members. The purpose of the meeting was to share hospitality statistics for the October – December 2020 period, tourism project development plans and the Plett Tourism Domestic Campaign. The presentation was given by Patty Butterworth, now CEO of Plett Tourism. General Manager Cindy Wilson-Trollip presented the Plett Tourism Anchor Event Strategy and Webmaster Brendon Morris highlighted and presented the association's amazing digital success albeit in the midst of COVID. Public Relations Officer Wandisile Sebezo presented details of the iKasi Life radio show on MCFM.
Shared statistics for October – December 2020 were not positive, as expected due to the coronavirus pandemic. The team have worked hard throughout the pandemic, developing, and managing several key tourism projects. The main presentation highlighted the current Domestic Campaign which continues to evolve as the landscape of tourism changes throughout the pandemic.
The tourism industry globally is slowly opening its borders and Plett has seen a small influx of both international and South African guests since January 2021. With an aggressive Domestic Campaign that is focused on key niche markets, the Plett Tourism Association is primely positioned to attract South Africans who enjoy the natural beauty, outdoor experience, fabulous food and the diverse accommodation offerings that Plett is most known for.
"These conversations are such an important component for our local tourism industry and in particular, we are able to listen to those who are 'on the ground' and are able to identify future trends and possible problems going forward," says Patty Butterworth, CEO of Plett Tourism.