NSRI Station 14 - Plett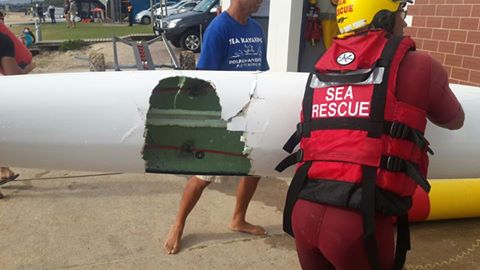 At 07h13, Monday, 19th December, NSRI Plettenberg Bay duty crew launched the Sea Rescue craft Ray Farnham and Airlink Rescuer and our rescue vehicle responded following a request for assistance from three paddlers. They reported one of the paddlers bumped off his surf-ski by a shark while paddling behind the breaker line off-shore of Keurbooms Lagoon, Plettenberg Bay. I also dispatched my tender boat through the river mouth to assist.
On arrival on the scene we found 3 surf-ski's rafted together with the three paddlers paddling the surf-ski's gently towards the shoreline, one of the surf-ski's was found to be damaged from a shark bite.
All three men were taken aboard the two sea rescue craft and the surf-ski's were recovered onto the sea rescue craft and they were brought to shore without incident and not injured they required no further assistance.
Ben Swart, 55, from Pretoria, has told NSRI that he and his two friends, Nick Bester and Ronald Pronk, regular paddlers on holiday in Plettenberg Bay, were paddling from Central Beach to Keurbooms on their three surf-skis about 400 meters off-shore well behind the back-line when without warning he felt a hard bump from underneath his surf-ski (behind the seat of the surf-ski) and he was thrown into the air and he landed in the water.
Realising that a shark, believed to be a White Shark, and believed to be about 4 meters in size, had breached from underneath his surf-ski, knocking the surf-ski into the air and taking a fair sized bite out of his surf-ski, Ben was able to swim back to his damaged surf-ski which still had a fair amount of buoyancy, he lay down on the surf-ski while his two friends rafter their surf-ski's alongside the damaged surf-ski and they began gently paddling towards the shore while calling NSRI Plettenberg Bay raising the alarm and requesting assistance.
Although Ben did not see the shark again after the incident Nick saw the shark about 30 seconds after the incident in the water nearby but no further sightings of the shark were made after that.
The photo above of the damaged surf-ski being carried into the NSRI Plettenberg Bay rescue base, shows bite marks and a sizeable piece of the surf-ski missing.
Photo's of the surf-ski, measurements and an account of the incident will be sent to research authorities for investigation to determine the size and the species of the shark and as part of ongoing shark incident, shark encounter research.
NSRI are urging the public, paddlers and bathers, to be cautious. NSRI coast watchers monitoring the coastline have noted shark sightings along the Plettenberg coastline following this incident today and caution is advised.